WELCOME TO HELLO LITTLE FRIDAY
HELLO what a treat it is to see you here!
I invite you to enter my rainbow-filled world
ORIGINAL • JOYFUL • WEARABLE WORKS OF ART
& Handmade Whimsical Wares by me, Jo Kealley : Purveyor of Fine Rainbows & Rainbow Connoisseur
Each piece is handmade with love in my beautiful Studio in Brisbane, Australia
I do hope you enjoy your visit
xXx
Curly Jo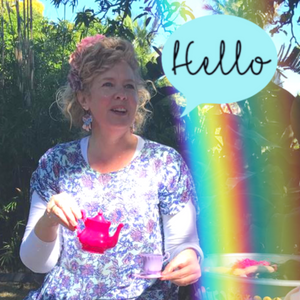 🌈 MEET THE MAKER : JO KEALLEY
Would you like to know a little bit more about me Jo Kealley aka Curly Jo?
You can have a read of my journey that led me from growing up in the foothills of Perth WA, to becoming a Graphic Designer, to the sea change the saw us land in BrisVegas Town where my small business dream became a reality.
Sixteen years on as the head Dreamer, Designer & Maker I'm still chasing rainbows & loving every moment of it.
READ MY RAINBOW CHASING TALE HERE
THE HELLO LITTLE CHRISTMAS SHOP
Looking for some Festive ✨ sparkle? sweet Santas, colourful Christmas Trees & more
💜❤️🧡 SHOP COLLECTIONS 💛💚💙